Area Guide: Fiscardo
If people-watching is your thing, then the beautiful harbour village of Fiscardo won't disappoint. Pull up a chair at one of the many sea-front tavernas and you can spend hours simply watching the comings and goings of not just local fishing or tourist boats but superyachts of the rich and / or famous! Situated and the northern tip of Kefalonia, Fiscardo (of Fiskardo as it is also known) was one of the only places on the island to remain pretty much intact after the earthquake of 1953. Wander the car-free streets to see the Venetian buildings not just unspoiled but in use, go shopping or buy freshly caught fish in the village or watch the car ferry from Lefkas arrive twice a day. The compact streets give it a wonderfully Mediterranean feel by day, but its during the evening, when the tavernas turn on their lights, when it's at its charming, almost fairy-tale like best. 
How to get there? It's a 30-mile (53 kilometre) car or taxi drive from Argostoli to Fiscardo (the bus takes just under 2 hours). The coastal route running between them is stunning if, at times, a little challenging.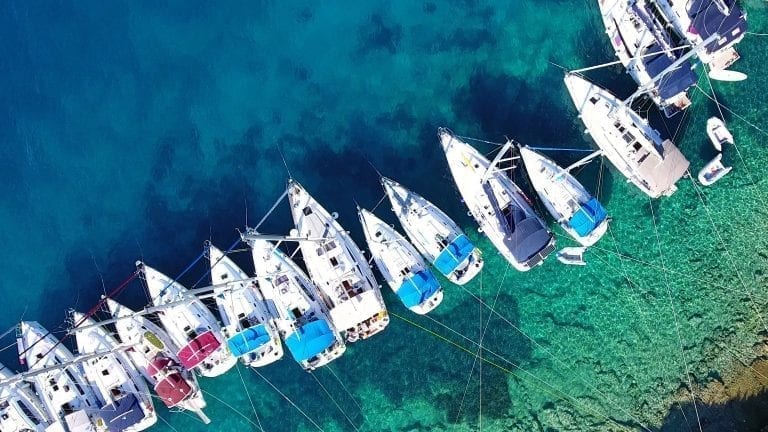 Walking and cycling in Fiscardo 
A network of ancient donkey tracks and footpaths have been upgraded to now offer the modern-day walker and tourist a plethora of lovely trails surrounding Fiscardo, one of Kefalonias best natural attractions . Trails are well signposted, indicating how long the path is, but you can take an easy circular walk (30 minutes) through the pine trees to the lighthouse which overlooks the Ithaca channel. . En route you'll see the old Venetian lighthouse, the new lighthouse, and a ruined Byzantine Basilica. It's a 2 kilometre (roughly 50 minute) walk from Fiscardo to Emblisi beach via the lighthouse, whilst heading inland, to the deserted village of Antipata is just over a 2-kilometre walk, too. There's some tarmac but it's mainly uneven stone track. You can hire traditional bikes as well as e-bikes in the village, too.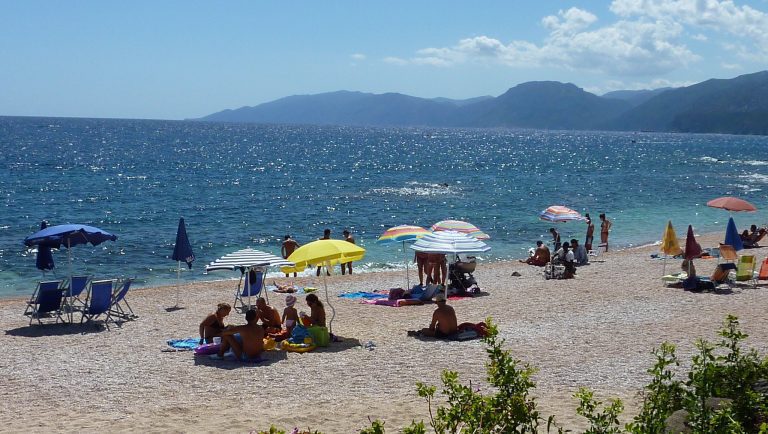 Best beaches near Fiscardo
Whilst there's a small, pebbly beach on the edge of the village itself, nearby Emblissi beach, one of the top 5 beaches of Kefalonia  has a white pebble foreshore which gently slopes into the crystal-clear waters. There are flat rocks on either side which are great to sunbathe on and the best thing is, the waters are so shallow, no boats are allowed (or able!) to moor here. Drive 5 minutes south and you'll find Foki beach, a narrow, shingly beach backed by cypress and pine trees where you can escape for some shade in the heat of midday. There's a lovely family run taverna here, too. Drive further afield and you'll find hidden coves and unspoiled beaches near the many nearby villages, such as that at Alaties where you can catch the sunset. The same can be said for Agia Jerusalem, a long strip of mixed sand and shingle which has laid back, retro vibe.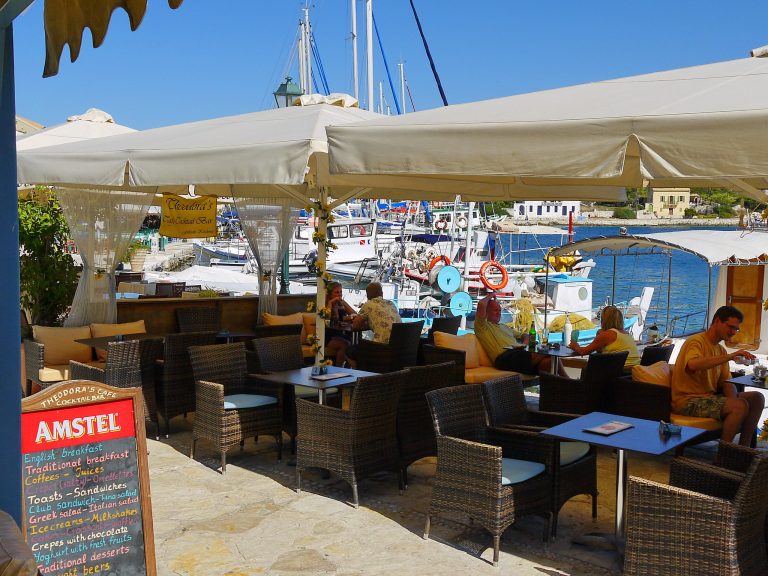 Best restaurants and tavernas in Fiscardo 
As we've already mentioned, Fiscardo is a place to see and be seen, and for the best ringside seats you want to be heading to the waterfront where boats are lined up cheek by jowl. For many, Elli's Café-Restaurant is the best in town, right on the harbour-front overlooking the port and serving traditional meat and seafood dishes (although there's vegetarian options, too). We also like the Captain's Cabin, which has inside tables as well as seating under a covered terrace on the harbourfront. Again, it serves traditional, home-cooked Greek food. If you're wanting a 'best-kept-secret' kind of a place, though, then Alati All Day Bar and Restaurant at Alaties Beach is the place to be. Don't be fooled if you think the 'all day bar' sounds a little 'kiss-me-quick-iffy. This is modern, friendly, offers peerless sea views in a more tucked away location and the food is sublime!  Outstanding value for money, too.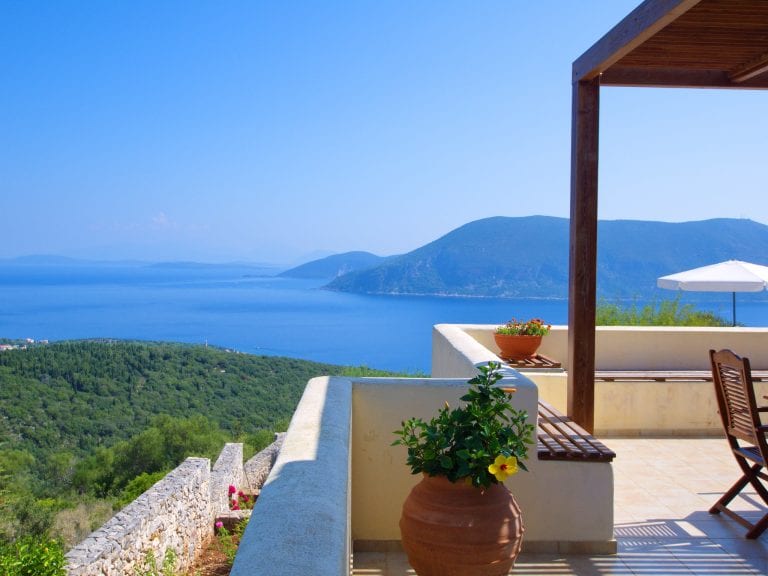 Where to stay: The Best villas in Fiscardo 
Best for views
What? Villa Fiskardo View, sleeps 7 in 5 bedrooms, 3 bathrooms
Why? One of our most popular properties in Fiscardo, this well-named villa is consistently rated 10 stars by our guests. Offering unrivalled panoramic sea views of the bay and the fabled island of Ithica across the water, enjoy the pool, the gardens and the peace and quiet. Fiscardo is just a 10 minute drive away, even closer to the pretty beach at Foki. 
What our guests say: "The photos could never do justice to the spectacular views and position of the villa they truly take your breath away. Majestic!"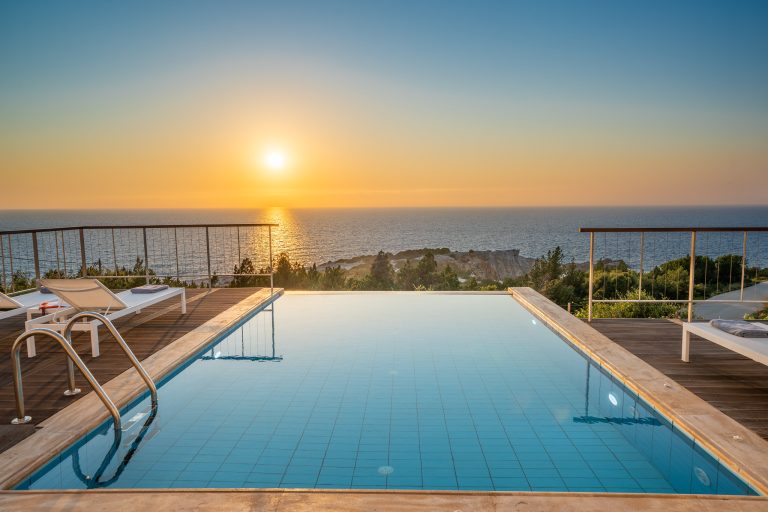 Best for sunsets
What? Alaties Beach Villa, sleeps 4 in 2 bedrooms, 2 bathrooms 
Why? Although not strictly in Fiscardo, Alaties beach is known for the best sunsets in the area. Whilst every taverna gets booked up to watch the nightly event, book this lovely beach villa and you'll have your own private ringside seat to soak up the last of the days rays.  Here, you're just 350 metres above a pristine cove of shingle and rocks, and you'll be lulled to sleep by the sound of the sea.
More information on Fiscardo and Kefalonia? Take a look at the following information and links.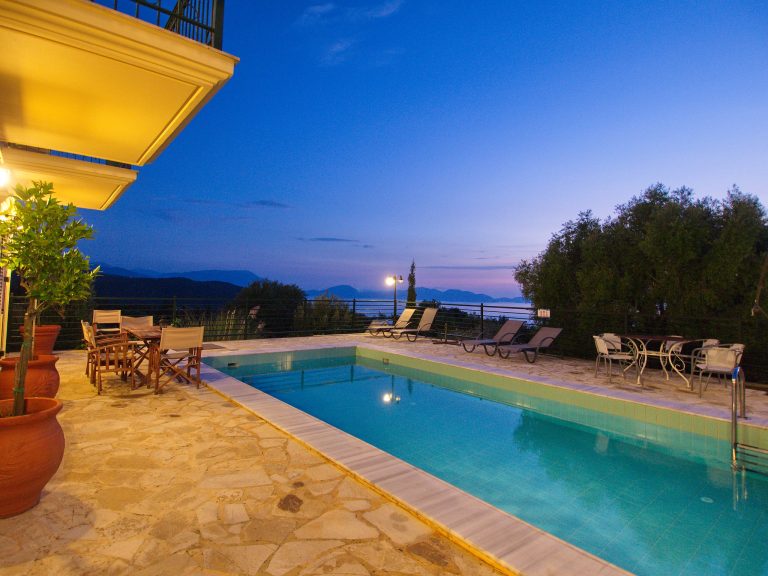 =
Best for privacy
What? Villa Mandola, sleeps 7 in 3 bedrooms, 4 bathrooms
Why? Located in prime position at the end of a land, this sugar rose hued villa (named after the coated almonds the island is famous for), sits in an elevated position meaning a fantastic vantage point over the green forested hillsides and down to the sea below. Spacious, luxurious and private, Fiscardo is just a 10 kilometre drive away. That's if you can tear yourself away from the pool of course. 
What our customers say: "A great villa with wonderful views over the ocean. Located in a really remote part of the north island but short drives from all nearby towns and beaches."
Best for nature and walking 
What? Villa Vassilis
Why? Perched high on a hillside carpeted with cypress and olive trees, the duck-egg-blue villa is surrounded by the sounds, sights and smells of the forest. Walking trails are a-plenty if you want to get out and explore, with Foki beach just 2 kilometres away. Here, amongst the canopy, you'll enjoy sea views across the islands of Lefkas, Meganissi and mythical Ithica, home to Odysseus. 2 level, open plan living and Infinity pool, too.
What our customers say: "A stunning location, the views were more amazing than we could have ever expected. Genuinely magical. A view you could never get bored of."
Click on the link to see our full Fiscardo villa portfolio or all our villas in Kefaloni