Area Guide: Skala, kefalonia
Located in the south-east of the Greek island of Kefalonia, Skala is a wonderfully laid-back family friendly resort, a magnet for walkers and nature lovers alike.
Once a former fishing village, it's frankly amazing sea-front position and sandy beach has made it a popular choice for those wanting to enjoy the best of the beautiful surroundings whilst having modern conveniences. In Skala itself, there's a range of restaurants, tavernas, shops and mini-markets right on the doorstep.  The backdrop of ancient pine forest which shroud the village and stretch along the coastline offers a great opportunity for shade from the midday sun, or to walk along in the morning or evening. The smell is also divine!
Of course, it's Skala's proximity to the 4 kilometres of sandy beach which hug the bay here which also make it a one-stop-shop for everything you can want or need in a holiday. 
Read on to find out more about what there is to see and do in and near Skala. Or for more information about where to stay in Skala, click here Skala Villas 
How to get there? Skala is a 35-kilometre drive from the capital, Argostoli. For optimum convenience, we recommend hiring a taxi than taking the local bus.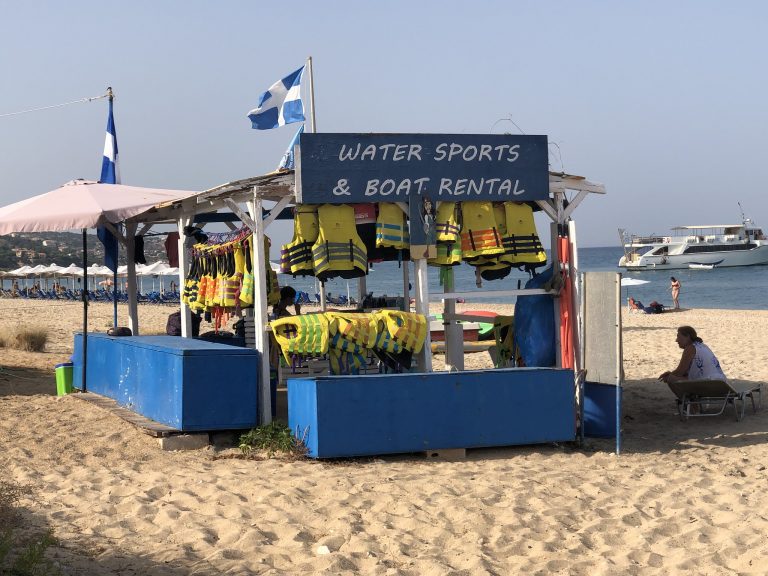 Walking and cycling in Skala
As we've already mentioned, Skala's pine forests and elevated position make it a perfect place for getting out and about, either walking, hiking, road biking or running.  One of the most popular yet easy routes is from Skala to Kaminia beach, a 5-kilometre trail which takes around 1 hour and 20 minutes to complete. 
There's also a circular 7.5-kilometre trail to the original Skala village which was devastated by the 1953 earthquake. The trail takes 3 hours and is a mixture of dirt roads and paths before following the old main road. 
If you're feeling more adventurous, then head to Mt Ainos National Park. There are various walks along the ridge or summit, from around 3 ½ to 6 kilometres and varying form hard to moderate. There's also the Mt Enos Trail at 11.9 kilometres which takes around 6 ½ hours. 
Click here for a more comprehensive trial guide of where to walk and bike in Kefalonia. 
Day trips and other adventures 
Given that Skala is surrounded by stunning sea and scenery, taking a boat trip out to the neighbouring island of Ithaka and the beautiful port town at Fiskardo makes for a day trip to remember. There are other destinations on offer too, such as Sami and Melissani Lake. Captain Vangelis Special Cruises  are a car-free, care-free adventure!
Based in Skala, family-owned operator Unexplored Kefalonia offers 4WD off-road adventures, hiking and camping tours and nature treks. It's goal? To offer an alternative view of the island. 
Blue Manta Diving and Aquanautic Club (includes snorkelling) is based on Tara beach and offers adventurous underwater experiences whether you're a first timer or professional.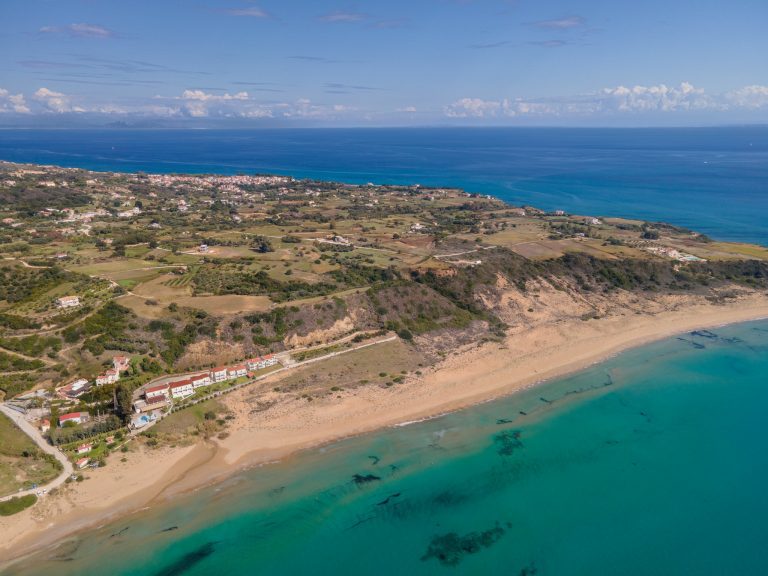 Best Beaches near Skala
If you prefer a quieter beach without the sunbeds and parasols which can get quite busy in high summer, walk a little further along the shoreline. Alternatively, for more privacy, there's pebbly beaches all along the coast heading north to Poros.  In Poros itself, there's a sheltered bay backed by pine forest. Heading in the other direction, there's Kaminia beach some 3 kilometres away which is also a nesting ground for loggerhead turtles. Head west and you'll reach the blue-flag beach at  Moudas & Kaminia beach just five minutes away, or further west, the village of Katelios which boasts a handful of tavernas right on the beachfront. 
Best restaurants and tavernas in Skala  
There's a really good range of places to eat in Skala, from international to local cuisine depending on your tastes and budget. Here's a few we love!
The Pines Restaurant- so many good comments from our customers, in the village square
Old Times Taverna – known for its Kefalonia meat pie, a traditional pastry pie with beef and vegetables.
Nautilus Seafood Restaurant, a boat with a fantastic view of the sea and beach, serving fish and some vegetarian and vegan dishes, too. 
Paspalis – we think this place offers some of the best moussaka in Kefalonia! 
Tartarooga Beach Bar and Restaurant – one of the newer bars and restaurants here, this is a great place to have a few cocktails overlooking the sea. A real hippy-chic vibe with grass matting and beach cushions as well as great food.
Take a look at the Top 10 restaurants in Skala rated by TripAdvisor 
Best history and archaeology in Skala
Culture-vultures and history lovers will love visiting the 3rd century Roman villa remains just a few kilometres inland from Skala. The villa has beautiful and intact mosaics within its grounds. There are also archaeological remains of an ancient temple built in honour of Apollo thought to date back to the 7th century BC.  Sakkos caves area also nearby.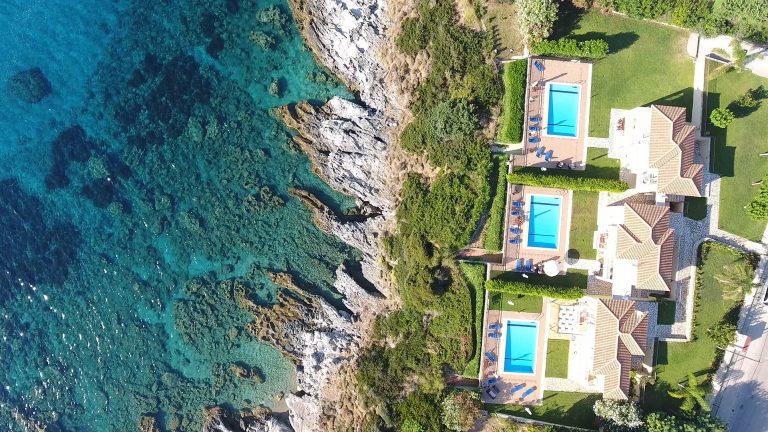 Where to stay: The Best villas near Skala  
Most popular villa in Skala 
Where? Villa Seagull
What? Sleeps 7 in 4 bedrooms
Why? Ideal for a group of friends and families with each bedroom having the luxury of a its own shower room, this modern villa with pool is surrounded by garden and offers outstanding sea views. It's just over a kilometre to Skala, ideal for a stroll there and taxi back! Eleven 10 star reviews! 
What (else) our customers say: 'Awesome and an unforgettable view of the Ionian Sea' (Dimitris)  
Did you know?
You can also hire adjacent villas, Villa Sakos and Villa Korfos! Take a visual tour!