The best street foods in Chania, Crete
Street food has soared in popularity in recent years and the Venetian harbour town of Chania, close
to where many of our Crete villas are located, is no exception.
Already a foodie hotspot on the island of Crete, boasting a huge array of fabulous restaurants,
tavernas and cafes, there's some recent pop-ups and stalls serving some of the best street foods too
– from authentic Cretan and Greek cuisine – to more global fast-eats.
Given that street food is usually cheap, quick to grab and easy to eat, what's not to like? You could
say that traditional Cretan and Greek foods such as gyros / souvlaki is the ultimate street – food
which has been around for years!
Here, we've put together what we think are some of the best street foods in Chania. Not everything
listed here is available from a stall or food-truck. What they are, though, are some of the best and
moist delicious quick eats on offer here.
What's your favourite street food in Chania?
Bougatsa
Is there a more authentic Cretan breakfast pastry dish than this? Essentially a crispy Greek cheesy
custard tart made with thin layers of filo pastry which are then fried in butter and then baked, in
Crete they are topped with cinnamon and sugar (don't knock it until you try it). Served with coffee,
Alain Bourdain and Gordan Ramsey have both extolled the virtues of this delicious light snack.
Where to buy: The oldest Bougatsa establishment is here, but there are others including Bougatsa
Iordanis in Chania.
Gyros and Souvlaki

Arguably the most famous and most authentic Cretan street food there is, Gyros (pronounced
'Euros' and Souvlaki are one of the same. Easily held in one hand, a soft pita bread is wrapped
around small portions of either chicken, pork or on more rare occasions, lamb. The meat has usually
been marinaded in a herb yogurt which is not overpowering but gives it its authentic flavour. As well
as the grilled / bbq'd meat, the street food is usually served with red onions, tomatoes, lettuce
yogurt or tzatziki and often (thought not always) with chips (fried potatoes).

Where to buy: Gyropolion 144 or new beach – bar style takeaway, Canteenery, in Kata Stalos


Kalimakari (or Kalimaki) is a very similar
equivalent, served on skewers or in a wrap.
Where to buy? Available in many places, but the Saturday food market on Minos Road is a great
place to eat this – and many other Cretan delicacies. Other street markets in Chania can be found
here.
Patsas Soup

If you've had a night on the town, Pastas soup is a traditional hangover recipe. It may not be for the
faint-hearted, however. Traditionally made with either kilia (tripe) or podarakia (feet), it's supposed to
have the same sort of restorative qualities as chicken noodle soup.
Where to buy? A place which offers a large array of traditional Cretan cuisine, you can try the soup
(and more) at Patsas Agnos Marmaritsakis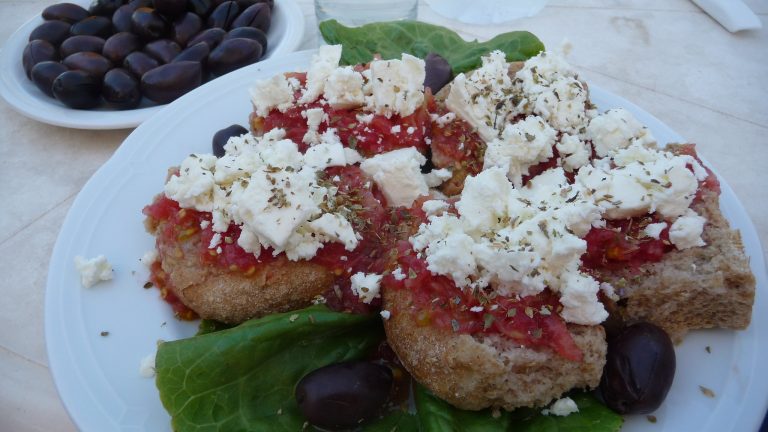 Dakos Salad
A Cretan speciality, there's more to this refreshing summer staple than just the traditional Greek
salad ingredients of tomatoes, feta, onions and olives. Here, just like the Italian's love their
bruschetta, rusk savoury biscuits are either crumbled on top of the salad or roughly torn into it. In
Crete, feta is replaced with mizithra cheese, a local soft, sweet cheese made from sheep or goats
milk. Whatever variations on a theme you are served, local herbs often also added along with glugs
of fresh olive oil, it's delicious!
Where to buy? Not strictly a street food establishment, but Kormoranos Bakery Café is reputed to
have the 'best Dakos in Crete'. See if you agree!
Horta

Wild greens have played a vital role in the Cretan diet, and arguably kept many of the islanders
healthy during times of adversity, such as war. There's no one plant which constitutes Horta, but
endive, beet greens, sorrel, black mustard leaves, kale, spinach and collards are all considered edible
and best served steamed or boiled and served with lemon and olive oil, salt and pepper. Traditional
puff-pastry pies, Hortopita like spanakopita are also made using this vegetable medley.
Where to buy? Look out for Hortopita in bakeries and tavernas. Too numerous to mention.
Just because you're in Chania, Crete doesn't mean you have to miss out on another hugely popular
global street food, Falafel. A mainstay of many festival, the Arabian snack of deep-fried chickpea
balls usually served with salad, tahini, hummus and pickles and served in a pita or flat bread is a
delicious treat adored by meat-eaters, vegans and vegetarians alike. Located in Chalidon, this
Arabian street food restaurant also serves other popular Middle-Eastern treats like chicken kebabs,
koftas, Fattoush, hummus, baba ganoush and more.
Where to buy? Aladdin Street Food
Our Freelance Villas Crete specialist and Greece Operations Director, Diane Steger, has lived in Chania
for almost 30 years and knows the town and the island inside out. Take a look at our About Us
section to find out more! You'll also see our first brochure (1984) with Chania on the front cover!