About Freelance Villa Rentals
We Know the Places Since 1984
Freelance Villas has been searching out individual holiday homes and Villas with Pools across the Mediterranean since 1984. We have grown to offer an eclectic range of villas with private pools, Beach Houses, character village houses and family-run apartments.
Our ethos has not changed since 1984 we select quality properties that we would choose for our own holidays and have not only inspected each one, but stayed in many. They are set in the coastal villages of Crete and Kefalonia, in quiet corners of Mallorca, Menorca and in undiscovered Sicily.
Every villa, village house or apartment is different and has something special to offer. The collection includes family-friendly villas within easy reach of a taverna, farmhouses packed with original features, luxurious houses with jaw-dropping views and quirky village houses for romantic retreats. A handful of family-run apartments make the grade due to location or personal service.
We bend over backwards to be flexible. From our earliest, pre-internet days we helped guests break free of the seven and fourteen-night package holiday to go 'freelance".
Freelance Villas
Since 1984


Freelance Holiday's first Brochure cover in 1984 featuring Chania's Venetian Harbour in Crete. At that time, we had many apartments, hotels and just one villa but no pools yet.
Obviously, today the front of Chania's harbour is much different and despite the many renovations through the years, it has that same wonderfully appealing feel to it.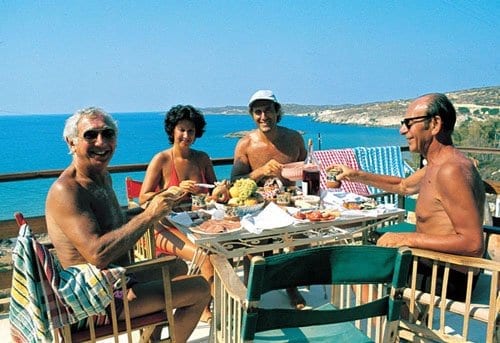 One of our favourite brochure shots from 1984,  enjoying their morning at one of our villas. Their children now stay with their children at one of our Villas on Crete.
Back in 1989, one of our popular villas then was Villa Thetis, situated abovv Kalives. Diane, on the balcony, adding color for the photographer.
Freelance Villas Featured In