Area Guide: Spartia 
Do you love character-filled villages? Like to stay away from the crowds? The small, white-washed village of Spartia is a great base for your Kefalonia villa holiday. Staying relatively quiet and unassuming, the village is well off the beaten track for most tourists meaning that you can enjoy the few tavernas and coffee shops and do your shopping in the mini markets without crowds even in the height of summer.
Set in a fertile landscape of lemon trees and olive groves, and with a backdrop of pine-clad slopes of Mt Aenos, Spartia overlooks the absolutely stunning Liakas peninsula, or Cape Liakas, which is where most of our villas are located.  It's about a half hour walk through paths and lanes or a couple of minutes' drive from our villas to the village itself. 
How to get there? Spartia village is located 12 kilometres southeast of Argostoli. It takes approximately 20 minutes by taxi.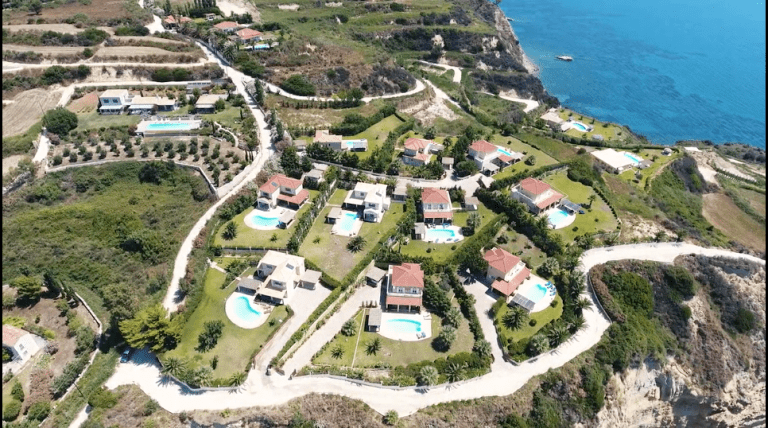 Walking and cycling in Spartia 
A network of quiet country paths and lanes lace the area surrounding Spartia and the Liakis peninsula. The terrain can be steep, however, particularly from our Villas lower down towards the sea on the Liakas peninsular.  
Best Beaches near Spartia
The village of Spartia isn't on the beach itself, but there are plenty of beaches nearby to enjoy the most of the turquoise blue waters. Just 2 kilometres downhill from Spartia is the fishing jetty with a small sandy beach on either side. The water here is shallow and ideal for younger children.  Other beaches nearby include Spartia Beach, Ammes Beach (Svoronata) Agios Thomas Beach  or Trapezaki Beach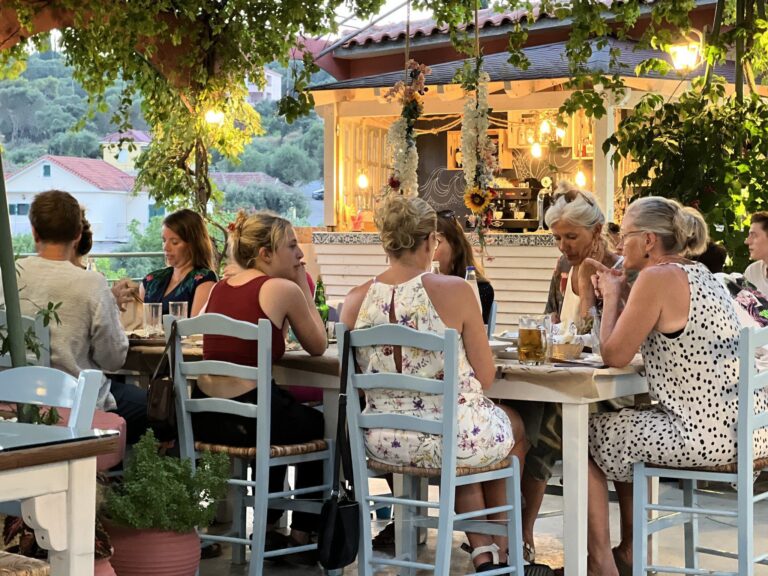 Best restaurants and tavernas in Spartia 
There's a generous scattering of tavernas and restaurants surrounding the village of Spartia. For the inside story, though, here's our personal selection of our Top 3! 
Isalos, large portions, low prices and great local house red and white wine 
The Olice Grove, lovely setting, specialising in Mediterranean and Greek food – vegetarian and gluten free options, too. 
Waterway, an exquisite fish restaurant overlooking Klimatsias beach, with views over to neighbouring Zante island!   
Don't feel like going out? We can also thoroughly recommend hiring a private chef to cook for you and your family on your villa holiday in Spartia. https://ionianpersonalchefs.com/ 
Click on the link for the full list of restaurants and tavernas in and around Spartia. 
Where to stay: The Best villas in Spartia 
Best for affordable luxury 
Where? Villa Ermis 
What? Sleeps 5 in 2 bedrooms
Why? "The best view you could wish for," is just one comment from our customers who stayed in this two bedroom villa with pool. Surrounded by private gardens for total privacy and with dining terraces and sun terraces giving a choice of places to hang out, this is a great place for small families or couples holidaying together. 
What (else) our customers say: "Jaw dropping location" 
Price: From EUR 120 per night
Best for private beach 
Where?  Villa Anna Maria 
What? Sleeps 7 in 3 bedrooms 
Why? How to choose? Offering not just a fabulous pool with various terraces to hang out, but a private path linking to your own private beach equipped with sunbeds and parasols, too! 
What our customers say: "Just magnificent" 
Price: From EUR 199 per night 
Best for infinity pool 
Where? Villa Roberta
What? Sleeps 7 in 3 bedrooms 
Why? Undoubtedly one of our most popular villas in Kefalonia, let alone Spartia. Pointing south across the Ionian sea towards Zante, you'll enjoy peerless sea views and an infinity pool just made for Instagram posing! 
What our customers say: "There is nothing to improve" 
Price: From EUR 199 per night 
Click the link for the full list of our villas in Spartia portfolio. 
The best all-rounder 
Where? Villa Anemos
What? Sleeps 7 in 3 bedrooms 
Why? Fabulous views! Comfortable, open-plan living! Private gardens! If you're looking for a villa that ticks all the boxes and is an affordable option, too, your search ends here!  
What our customers say: "The best villa I have ever stayed in"
Price: From EUR 128 per night 
The best for luxury 
Where? Villa Alexandros
What? Sleeps 9 in 4 bedrooms
Why? This may be slightly more than most of the villas we offer near Spartia but what price a slice of holiday heaven? Sitting in its own plateau of spacious grounds on the Liakas Peninsula, Villa Alexandros has sweeping views across to the island of Zakynthos across the strait. As well as outstanding outdoor facilities, each of its 4 bedrooms are en-suite. 
What our customers say: Lovely spacious villa in beautiful surroundings 
Price: From EUR 249 per night